Create new streams of revenue, increase deposits and attract and retain clients.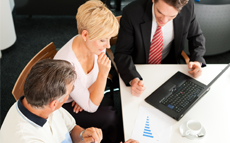 Banks are looking to create new streams of revenue, increase deposits, attract new clients and retain current clients. PayMate can help you become more competitive with the national banks by being able to offer payroll services and become a one-stop-shop for business owners.
PayMate's Bank Partner Program offers a full suite of payroll and employee services that can be added to your banking products and services. This program provides the bank co-branding opportunities and a revenue share of your business clients who sign up for our payroll services.

Partner with PayMate today.
Call us at (800) 315-5597
We look forward to working together!